Endowed professorships at Bundesdruckerei
A lively exchange with academia and support for young academics - these are the two core motives for Bundesdruckerei GmbH to endow professorships at universities and scientific institutes. We provide an overview of the various professorships, their aims and successes, as well as a view to the near future.
Clear investment in the future
With its endowed professorships, Bundesdruckerei aims to make a key contribution to the development of secure identities and data, thus helping to drive forward the key technologies of the future. "A clear investment in the future" is how Bundesdruckerei CEO Stefan Hofschen summed up his company's commitment to science. 
"Deutschland besetzt im internationalen Wettbewerb bei den Hochsicherheitstechnologien einen vorderen Rang, aber wir dürfen nicht warten, bis andere uns einholen. Unsere Aufgabe ist es, in die Zukunft zu schauen und diese Zukunft im Sinne der Gesellschaft mitzugestalten", so Hofschen. Die interdisziplinären Ansätze in der wissenschaftlichen Arbeit bieten laut Hofschen die Chance, über den eigenen Tellerrand hinauszublicken und das Wissen und die Erfahrungen anderer Disziplinen zu nutzen und neue Lösungen zu erschaffen.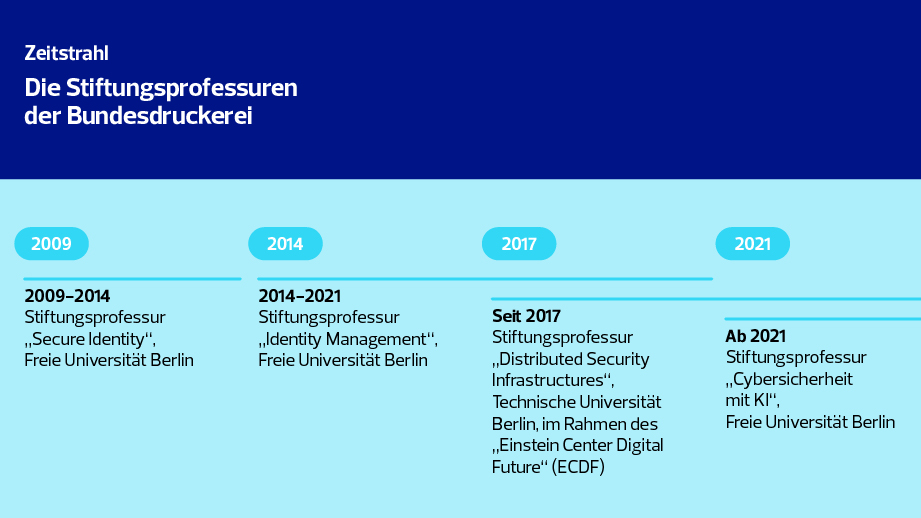 First endowed professorships in 2009: "Secure Identity"
That is why the company established the first endowed professorship at the Free University of Berlin (FU Berlin) in the Department of Mathematics and Computer Science back in 2009. Led by guest professor Dr Volker Roth, Germany's first chair for "Secure Identity" dealt with the research and development of future-oriented identification technologies. One goal was to provide practical training for the urgently needed next generation of IT professionals and to prepare students for the challenges of the international ID security market. The chair promoted the transfer of knowledge between the worlds of research and business, for example through internships and bachelor's and master's theses. Even back then, the focus was on the topics of privacy and protection of citizens' identities. 
Second endowed professorship established at FU Berlin: "Identity Management"
In order to continue the scientific work after the agreed five-year term of the endowed professorship, Bundesdruckerei funded another professorship at the start of the 2014/2015 winter semester. It was established in the "Identity Management" department at FU Berlin and staffed by guest professor Dr Marian Margraf. The professorship has been extended twice since then and is now scheduled to continue until March 2021. 
The Free University of Berlin (FU Berlin) was founded in 1948 and its headquarters and main campus are located in the Dahlem district of Berlin. In terms of the number of students, it is one of the 20 biggest universities in Germany. As part of the 2007 and 2012 Excellence Initiatives, FU Berlin was the first university in the city to be crowned a "University of Excellence". Together with Humboldt University of Berlin, TU Berlin and Charité - Universitätsmedizin Berlin, it was included in the Excellence Strategy of the federal and state governments in 2019. 
Technische Universität Berlin (TU Berlin) is located in the Charlottenburg district and has around 35,600 students across 90 courses, making it the third-largest of the four Berlin universities. It is among the oldest technical universities and the 20 largest universities in Germany. TU Berlin is a founding partner of the European Institute of Innovation and Technology. 
Einstein Center Digital Future (ECDF) is the centre for digitalisation research in Berlin. Since 2017, scientists have been conducting research here in the core areas of digital infrastructure, methods and algorithms, and in the innovation areas of digital health, digital society, and digital industry and services.
Bundesdruckerei is fully satisfied with the results of the work. "It was a real success story", said Dr. Manfred Paeschke, Chief Visionary Officer at Bundesdruckerei, summarising the last six-and-a-half years. It just worked, in terms of both content and people. "With the help of Prof. Dr. Marian Margraf we were able to clearly evaluate whether things we were already doing made technological sense. He has started several projects which Bundesdruckerei was able to benefit from and which he also used to grow his own body of research. It was a win-win situation", said Paeschke. Margraf pushes modern topics and technologies and thus also puts Bundesdruckerei under a certain amount of pressure to explore new territory. Paeschke feels that this has always been a great relationship. 
Margraf's conclusion is also positive: "We have achieved a lot." Together with his team, he has conducted a wide range of research. Three main topics had emerged: usable security and data protection, post-quantum cryptography and, as a fairly new topic, cryptanalysis using quantum computers. "The endowed professorship gave us the opportunity to work on topics and try out many things without having to apply for projects straight away. Bundesdruckerei gave us a lot of time to develop topics. It was a great partnership", said Margraf. The goal of being there as a contact partner for industry in order to bring research topics into business has also been achieved very well. 
In addition, it was possible to acquire some public projects together with Bundesdruckerei. These include projects on attack detection using artificial intelligence, the projects OPTIMOS 2.0 and ONCE as well as others on post-quantum cryptography for sovereign documents. Margraf has also provided significant support for industrial projects, such as the security concept of the Verimi platform or the Bundesdruckerei product Bdrive.
Das Wort "Kryptographie" kommt aus dem Alt-Griechischen und meint ursprünglich die Wissenschaft der Verschlüsselung von Informationen. Es ging und geht in der Kryptographie letztlich um die Sicherheit von Informationen. Informationen sollen so aufgebaut werden, dass sie gegen Manipulation und vor unbefugtem Lesen durch Dritte geschützt sind.
In addition to the guest professorship, Bundesdruckerei's endowment also included funding for positions for two research fellows, two student associates and one assistant. "We were able to expand the working group, which now has 24 employees", Margraf explained. 
The endowed professorship will now go on until the end of March 2021 and will be made permanent as a full professorship at Fraunhofer AISEC. "This further demonstrates the success of Margraf's work" said Paeschke. "In this guest professorship, I especially enjoyed conducting research and working on topics with a social impact. This would not have been possible without this professorship and the highly cooperative and trusting relationship with Bundesdruckerei", Margraf reflected. Margraf and Bundesdruckerei will continue to maintain close contact and conduct joint projects in the future.
Prof. Dr. Marian Margraf
Since 2017 Also serves as head of the Secure Systems Engineering department at Fraunhofer AISEC
Since 2014 Professor of Identity Management at FU Berlin / Fraunhofer AISEC
Since 2012 Professor of IT Security and Theoretical Computer Science at Darmstadt University of Applied Sciences and Scientific Project Manager at the Center for Advanced Security Research Darmstadt (CASED)
2008-2012 Federal Ministry of the Interior (BMI), technical manager of the New German ID Card project
Until 2008 Federal Office for Information Security (BSI), Cryptography Advisor
Third endowed professorship at TU Berlin within the ECDF since 2017
The endowed professorship at Technische Universität Berlin was established in 2017 as part of the Einstein Center Digital Future (ECDF) and filled by junior professor Dr Florian Tschorsch on the topic of "Distributed Security Infrastructures". His research covers topics such as anonymous internet communication and blockchain technologies. With three of the six years behind him, he has been able to come to a pleasing interim conclusion: "In a little over three years, we have built up a core team of five doctoral students and acquired some external funding. Together we have produced visible scientific results in the form of publications that receive attention. I'm obviously very happy about this", said Tschorsch. The results also look positive in terms of research and teaching. It has managed to bring its own results closer to other disciplines in the form of guest lectures. There have been lecture series on topics such as digital future and Internet and privacy. The work has been able to continue despite Covid-19 restrictions. 
Tschorsch is also very pleased by his personal interim conclusion: "For me, this junior professorship was and is the right decision and I feel very content working here," he emphasised. "The work is a lot of fun." The junior professorship is a privilege and offers him the freedom to do relevant work, such as researching digitalisation in an interdisciplinary manner. "You can break down barriers in this professorship," said Tschorsch.
Prof. Dr. Florian Tschorsch
Since 2017 ECDF Junior Professor for "Distributed Security Infrastructures", TU Berlin
June 2016 Doctorate (Dr. rer. nat.), Humboldt University of Berlin
2012–2017 Research Fellow, Computer Engineering, Humboldt University of Berlin
2011–2012 Research Associate, Distributed Systems, Rhenish Friedrich Wilhelm University of Bonn
2011 Research Associate, Telematics, Julius-Maximilians-Universität Würzburg
2011 Research Associate, Decentralised Networks, Heinrich Heine University Düsseldorf
2010 Masters (MSc) in Computer Science, Heinrich Heine University Düsseldorf
2009 Bachelor (BSc) in Computer Science, Heinrich Heine University Düsseldorf
"With this professorship, which is fully integrated at the ECDF, we have been able to build a strong connection with the institute here at Bundesdruckerei," Paeschke added. With his expertise, Tschorsch was able to advise the company well on choosing the right technologies for the future, such as the topic of self-sovereign identity.
Tschorsch highlights one project in particular: BBBlockchain. As part of this interdisciplinary research project, a blockchain-based participation platform was developed to enable more transparency and participation in urban development, in this case using the example of Berlin. Blockchain technology prevents changes made to information going undetected. This creates transparency in communication and more trust among citizens in the processes and the partners involved. The project is currently entering its second phase and has already been approved for the next two years. The aim is to develop software that is independent of the knowledge of the current project team and can thus also be used by other cities and municipalities. 
Tschorsch also wants to counter online disinformation. "We can can't completely prevent misinformation as the Internet is open to all, as it should be. However, we can show how information is spread online and encourage solid, transparent citation of sources," said Tschorsch. Blockchain technology is suitable for this too. "This technology allows information chains can be mapped and we can track who changed what information and when." With his team, Tschorsch built the Webchain platform, which is primarily intended to make the media's work easier. It is now set to be continued in an interdisciplinary project which Tschorsch is currently applying for together with Bundesdruckerei and other partners. Within the scope of its work, Bundesdruckerei could, for example, look for solutions on how to achieve proof of identity online while protecting the privacy of users. "This enables Bundesdruckerei to make a clear contribution to digital infrastructure while taking data protection into account," says Tschorsch. The junior professor and the company exchange ideas intensively on this topic.
"Germany's Corona-Warn-App has shown that data protection can indeed be a design element and that the solution is also accepted by the users. We still weren't at that point a few years ago", stressed Tschorsch. Now it must be a matter of taking this progress into account in other projects, such as the electronic patient record (ePA). The junior professor sees a lot of potential here, but recognises that he has his work cut out. "I would have liked us to also have a public discussion on these kinds of projects, as we did with the Corona-Warn-App, because sensitive data require a high degree of protection." The pandemic is currently showing how important scientific work is. "I am all the more pleased about Bundesdruckerei's commitment to science," said Tschorsch.
Fourth endowed professorship on the way
Bundesdruckerei wants to remain involved in science in the future and is therefore endowing the next professorship from April 2021. It will once again be established at FU Berlin and led by Prof. Dr Gerhard Wunder. The new professorship "Cybersecurity with AI" will also involve the appointment of two research fellows, two students and an assistant. In terms of content, this professorship will focus on researching artificial intelligence (AI) technologies for cyber security. According to Paeschke, this involves mathematically comprehensible, provable AI to increase cyber security - in close cooperation with other institutions, such as the Federal Office for Information Security (BSI). 
Wunder is a Heisenberg fellow of the German Research Foundation (DFG) and was the first ever communications engineer to receive this highly prestigious award. At FU Berlin, he has already opened the door to combining the topics of AI and cybersecurity with information-theory foundations and application-related issues. He now wants to continue this work in the endowed professorship. "This professorship is a godsend," Wunder said. "Here I get to select issues that I initiated early on for research over the long term." The focus is clearly on AI, but there are also topics such as data protection, smart homes, the next mobile phone generation 6G, the Internet of Things and detection of "fake news". There is a great need to research the fundamentals of AI in the context of security and make them available for applications. This has not yet been established at FU Berlin or on a national level, but will become very important in the future. Wunder will also offer lectures on this subject from summer 2021.
He is particularly looking forward to the planned cooperation with Bundesdruckerei, FU Berlin, Fraunhofer AISEC and the new Dahlem Centre for Interdisciplinary Privacy and Security Research (DIPS). DIPS is a very broadly based Institute for Computer Science at FU Berlin, where all aspects of information security and data protection are considered holistically. Wunder places a lot of emphasis on this interdisciplinary approach. For example, he is also involved with the DFG in two interdisciplinary priority programmes on mathematical data structures in AI and on security in cyber-physical systems. 
Prof. Dr. Gerhard Wunder
Since 2021 Professor of "Cyber Security with AI", FU Berlin
2016–2020 Professor, Heisenberg Fellow Information Theory for Cybersecurity and Machine Learning, Heisenberg CIT Group, FU Berlin
2017 Nomination for German Future Prize 2017 together with Dr Andreas Müller (Bosch) and Prof. Dr Christof Paar (Ruhr-Universität Bochum) for work on information-theoretical security
2009–2015 Fraunhofer-HHI, including as coordinator of multiple award-winning projects 5G NOW (EU) and PROPHYLAXE (Federal Ministry of Education and Research, BMBF)
Many other scientific partnerships
Bundesdruckerei not only invests in endowed professorships as a flagship of the company's scientific commitment, but also operates a large research network. For many years, this has included cooperation with the Fraunhofer Institutes in Berlin and Brandenburg, but there are also several innovation partnerships, for example with the famous CERN in Geneva, the Hasso Plattner Institute in Potsdam and the European School of Management and Technology (ESMT) in Berlin. The company also supports various committees and associations, such as the Secure Digital Identity Association. (VSDI). Paeschke added: "Our aim is to involve a large number of players in the market. This is a new form of cooperation from which all parties can benefit and ensures exponential growth of our network. With this work, we contribute greatly to being considered the leading security company in Germany within the scope of our potential as a medium-sized company."